Restaurants & Bars
Totally decadent, absolutely delicious and incredibly varied. The culinary offerings at the 5-star all-inclusive Iberostar Paraiso Del Mar Hotel are sure to win over even the most discriminating of palates. Cuisines from around the world, as well as outstanding dishes with the authentic flavors of Mexico are featured at our buffet and a la carte dining venues. All are carefully prepared and appetizingly presented. For cocktails and light dining four inviting bars and snack bars are located throughout the hotel, while room service is ready to serve you in the comfort of your own accommodations.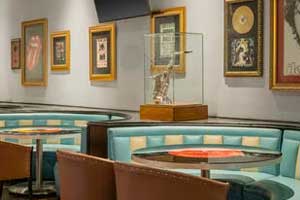 Star Rock Cafe
American
American menu with salads, cheese sticks, crispy wings, sandwiches, hamburgers, barbecue ribs, and sweet desserts including the Iberostar brownie and raspberry cheesecake.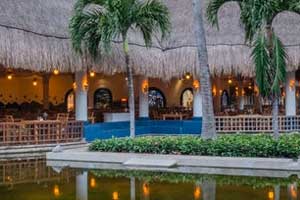 El Mercado Buffet
Mexican specialties and international dishe
El Mercado boasts a salad bar and stations serving burgers, pizza, pasta and vegetables, live cooking demonstrations of grilled meat and fish all sustainably caught), and much more for both lunch and dinner. At the breakfast buffet choose from a wide variety of fruit, hot dishes, cereal, dairy products, and more.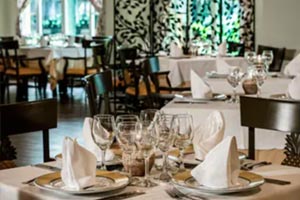 El Rodizio
Brazilian Restaurant
Menu inspired by Brazilian recipes. You can enjoy a buffet with cold appetizers, including shrimp ceviche and hearts of palm with ravigote or cheese sauce. You'll also find hot appetizers like terrine with fish over red pepper sauce and spicy pepper and beef empanadas. Complete your meal with chorizo slices, sweetbread, and sirloin with a side of seasoned potatoes, grilled vegetables, or corn on the cob and your choice of sauces.
La Dorada
Mediterranean restaurant
À la carte fish and seafood specialties; a station featuring appetizers and Mediterranean mezze, rice dishes such as shrimp paella, the fish of the day cooked 'en papillote', or grilled octopus; and a dessert station with a selection of the chef's favorites. All the fish and seafood served has been sustainably caught.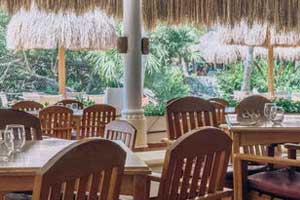 El Faro
Italian Buffet & Restaurant
At dinner, explore Italy through its gastronomy. Start your meal with an antipasti buffet before moving on to pizzas, pastas, and hearty dishes della Nonna. You can also enjoy traditional desserts such as tiramisu or panna cotta. What's more, the buffet breakfast also offers a large selection of bread, cold cuts, fruit, cereals, dairy products, and more. The buffet lunch boasts a range of options including salads, burgers, pizza, pasta, vegetables, and grilled meat or fish prepared right in front of you.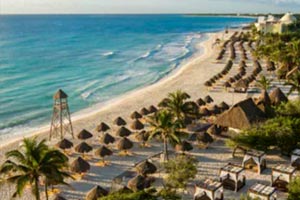 El Kiosko
Beach Bar
Feel the sand beneath your feet all day long by dining in our beach bar. Why not try our buffet or our selection of quick snacks?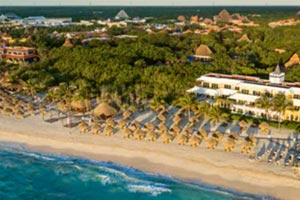 Iberostar ParaÍso Beach
Access to 5 Restaurants
Feel the sand beneath your feet all day long by dining in our beach bar. Why not try our buffet or our selection of quick snacks?